The Mistakes Process
This process is designed to enable children to address their mistakes and move on positively by finding ways to resolve the issues themselves. Initially, adults will assist children in using a series of questions designed to resolve conflicts and disputes. Below is an exemplar of the process: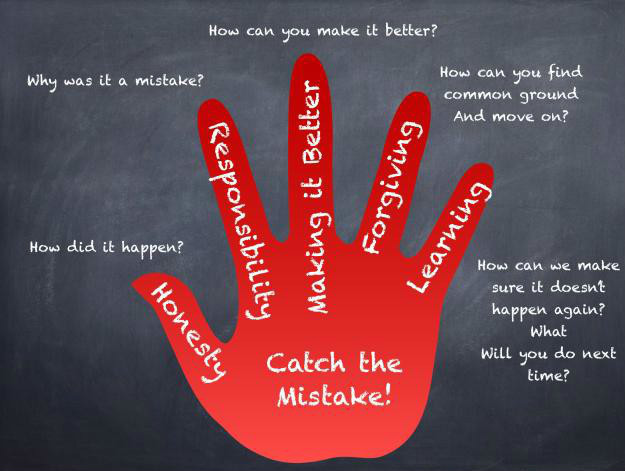 The school's aim is to enable children to use the process independently and indeed ultimately to train others in how to use it. The School Council will be the first set of children trained in how to follow the Mistakes Process and will act as mediators in addressing children's problems. Ultimately, the school aims to embed the Mistakes Process in school policy and for all children to use it when resolving disputes and addressing issues.
Kindness
We also recognise that children often go above and beyond what we expect from them, particularly with their incredible helpfulness, friendliness, politeness and extra learning at home.
We want to reward our children for this.
If a member of staff sees a child being kind or being really helpful they will be rewarded with a raffle ticket with their name on the back.
The ticket is then posted into a box for their year, currently situated in the library.
Every Friday during Assembly a ticket will be drawn for each year and a prize will be awarded to the owner of the winning ticket of that year.
So good luck to all of the children who have been rewarded raffle tickets.